Flutter vs. React Native – What to Consider in 2020?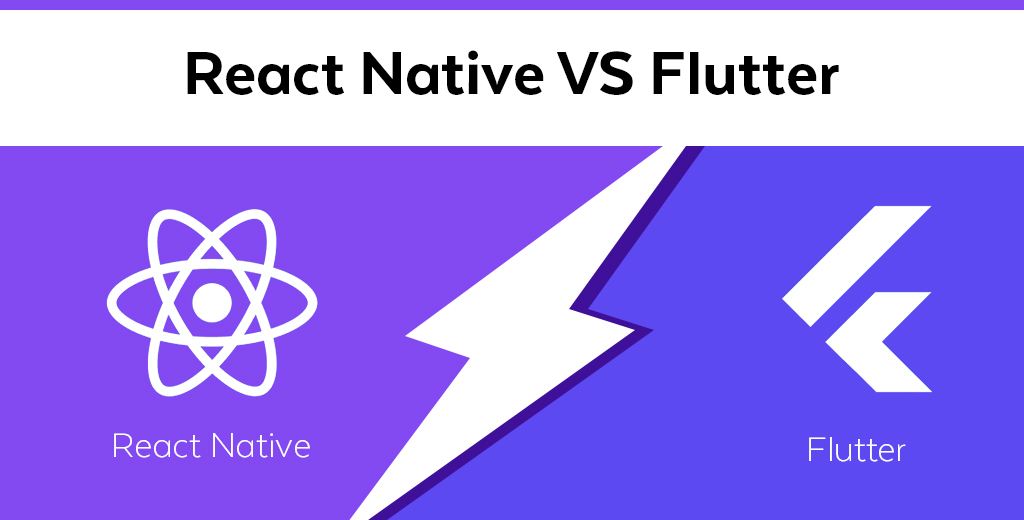 Want to build apps as quickly as possible? And no sure whether to consider React Native or Flutter development services? Read on as here is a complete guide for app and business owners to determine which framework is an ideal fit for your cross-platform app development.
Overview to Flutter and React Native
Let's first cover the fundamental details about these two cross-platform app development technologies.
About Flutter
It is a portable UI toolkit. To put in simple words, it's a comprehensive app Software Development Kit or SDK, complete with tools and widgets. Flutter allows cross-platform app development. It gives app developers an easy means for building and deploying visually appealing, natively-compiled apps for mobile, web, and desktop – all utilizing a single codebase.
It's free as well as open-source
It's based on Dart – a quick, object-oriented programming language. Google launched Dart 2.3 with support for UI-as-code features. Dart is currently in its 2.6 version. It is relatively new and very easy-to-learn, particularly for experienced developers who are more familiar with C# and Java. 
The architecture is on the basis of the very famous reactive programming – it pursues the same style as React.
It offers its own widgets – these are attractive, fast, and customizable. 
Because of the Widget experience, Flutter apps entail an amazing look and feel. 
A team at Google created Flutter. However, as an open-source project, Google as well as the Flutter community contributes to its further development.
Below is the list of famous apps made using Flutter:
Xianyu by Alibaba – one of the biggest eCommerce firms in the world. 
Hamilton – official application for the Broadway Musical
Google Ads app
Reflectly
Topline by Abbey Road Studios
About React Native
It is an open-source mobile app framework that utilizes JavaScript. React Native is a potent framework for the followings:
Cross-platform development
Developing mobile applications utilizing JavaScript language
Building apps for both iOS and Android utilizing a single codebase. 
Utilizing the same design as React. 
Keep in mind that applications developed utilizing React Native aren't mobile web applications. React Native utilizes the same basic UI building blocks as standard Android and iOS apps. This implies that rather than developing in Swift, Java, or Kotlin, you're placing the same building blocks together, utilizing React and JavaScript. And React Native utilizes components analogous to Flutter's widgets. 
Facebook is the one who created React Native. 
Below is the list of popular apps developed using React Native:
Instagram
Facebook
Skype
Tesla
Wix.com
FB Ads Manager
Pinterest
Pros and Cons of Flutter and React Native
When you're having a hard time deciding whether to go with React Native or Flutter development services, the best thing to do is to check out the pros and cons of both cross-platform app development technologies. 
Flutter Pros and Cons
Below is the list of Flutter pros:
Flutter provides a more dynamic and quicker app development. It is one of the amazing things that Flutter entails and loved by every top mobile application development firm. Developers can do modifications to the codebase on-the-fly and witness them right away reflected in the app. It is the so-called Hot reload feature and it usually takes milliseconds for modifications to show. The feature assists teams introduce features, resolve bugs, and experiment using new ideas. 
One Codebase, Two Mobile Platforms and More
Using Flutter, app developers can write one codebase for two apps – covering both Android and iOS platforms. This cross-platform development technology is platform-agnostic as it entails its own widgets as well as designs, implying you can have the exact same application on two platforms. 
If you have to develop an MVP for your application, Flutter is the ideal choice, particularly if you're short on time. 
Below is the list of Flutter cons:
Support and Libraries – Impressive but Yet Not as Rich as Native App Development
For Flutter, Google's support is impressive. However, it is yet quite new. It implies that you can't always have the functionality you desire in existing libraries; thus, your developers may have to develop custom functionality on their own and it takes time,
Though Flutter is open-source, if Google concluded to pull support for the project, it would lead to disaster. That said because the Google team launched the Flutter beta version and it has just ramped up its efforts, as demonstrated by Flutter's prominent role during Google IO '19, along with the latest Flutter Live event. 
React Native Pros and Cons
Below is the list of React Native pros:
Fast Refresh = Fast Coding
In essence, the same features just like Flutter. Hot Reload tends to speed up the app development procedure by enabling an app developer for injecting new code directly into a running application. Thus, a developer can witness changes right away, without redeveloping the app. To enhance the developer experience through hot reloading, the React Native team incorporates in 0.61 version a new feature known as fast refresh unifying live and hot reloading. 
One Codebase, Two Mobile Platforms and More
Like Flutter, you can write a single codebase in order to run two applications and covering both Android as well as iOS platforms. Better yet, JavaScript offers you a leg up while writing cross-platform apps by sharing code with web apps. It is achieved by formulating abstraction parts you can compile for targeting platforms. 
React Native allows developers to develop cross-platform applications – no more and no less. It enables developers to conclude precisely what solutions they like to use – in accordance with the project's requirements and the developer's preferences. 
For instance, if a developer wants to conclude how to tackle the global state, select a router library, or select between TypeScript or JavaScript. 
Below is the list of React Native cons:
Like any cross-platform technology, neither the performance nor the UI experience will be the same as in native applications – merely close. 
However, yet, it is easier to accomplish a "native feeling" through React Native than Flutter.
React Native utilizes native parts under the good should offer you confidence that, after each OS UI update, your application components will be right away upgraded. That said, this could break the application's UI but it occurs very rarely. On the other hand, with Flutter, the application UI is quite more stable.
The Final Verdict
So, which one to consider whether to go with Flutter development services or React Native? It entirely depends on your project's requirements and the balance of your app developer team's skills. For instance, if your developers are aware of Dart, then Flutter is the right option. If your developers are good at JavaScript, then go with React Native. 
Ready to Discuss?
Please take a moment to send some basic details of what you need done and we will get back to you swiftly