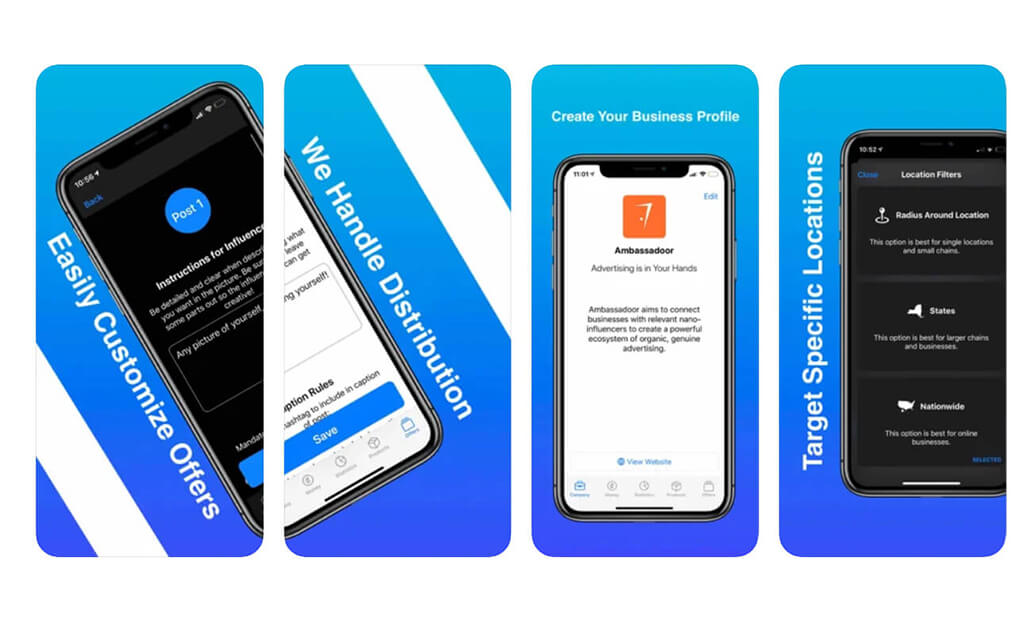 The new smartest and easiest way for your business to advertise on social media: Nano-Influencing with Ambassadoor.
Creating content, targeting your potential customers, sticking an ad in their face and hoping for engagement can be expensive and take a long time. It is becoming less effective as people see more and more ads in their feeds on social media every day. Using influencers is a great alternative, however, it can be time consuming to find and reach out to them individually, and tough to negotiate compensation. You could go through a social media marketing agency, but they can be overpriced and slow in their work… Ambassadoor is different.
Ambassadoor uses nano-influencers, who are Instagram users with 100-10,000 followers. They are not famous people who litter their feeds with sponsored posts that they get paid thousands for… they are real people who are your customers and best brand advocates. They have a social media network made up of friends and family who have similar lifestyles and interests, and most importantly, care about their opinions and recommendations over celebrities or random people with a lot of followers. Nano-influencers' followers are happy to see them being sponsored, especially by a local business, and they will associate your business with that person they adore. Using several local nano-influencers is way more affordable and effective than one larger one. A sponsored post doesn't seem like an ad to a nano-influencer's followers; it seems like a recommendation and a friendly face associated with your business.
With Ambassadoor Business, you don't need to be an Instagram guru or even have an Instagram account! All you have to do to utilize the best form of social media advertising is download our free app, create and account and customize offers you'd like to send out to influencers in your area that match the category of your business. You can input as much or as little money into Ambassadoor as you'd like to send offers. You can also withdraw your money at any time. No commitment, no subscription fee, no download cost. We strive to minimize risk for your business and maximize return on investment.
Keep track of your campaign's engagement on the statistics page! We keep track of the total likes your nano-influencers posts have amassed and you can view their posts right from our app.
If a nano-influencer recommended us to you, make sure you input their referral code when they sign up! We encourage our influencers to get their favorite businesses on board!
With Ambassadoor, the best form of social media advertising is made simpler than ever. Give your business a competitive advantage and start sponsoring nano-influencers with us today! Download Ambassadoor Business.
Wish to read more projects?
iOS Projects – OptifiNow
iOS Projects – Ambassadoor Influencer
iOS Projects – LoveLike
Ready to Discuss?
Please take a moment to send some basic details of what you need done and we will get back to you swiftly