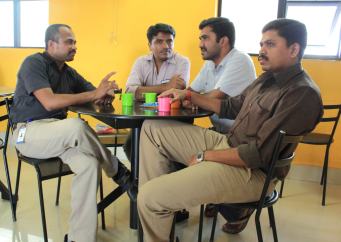 There are tough times we have sailed through where many companies of our size failed to stay open. We have always wondered what our strength are and i thought to write down this blog post to summarize it. Looking back all these 10 years there are clients who we still work for. Who taught us how to sell, marketing, setting expectations and many more. Here are some thoughts about what we might have did correct.
Flexibility on scope
We know this every project we have worked on has some kind of scope creep. It is very rare or to have a project detailed till the end. Web projects are now much easier to develop that is why many clients and companies are not spending much time in creating specs. This leads to many changes throughout the development stage. Even though we have some hours or time estimated considering the scope changes there is always overrun on estimation.
Normally we don't bring the overrun hours to our clients if they are minor changes or couple of hours fixes which are very necessary. If there is a feature completely new then we request more hours to consider for additional billing otherwise we are happy to stick to what we initially quoted.
The team
As a company we always don't have the luxury to go and hire best of the best but we always make sure we hire the team player, who is willing to learn, adapt to new technology, work in odd and long hours, engage with customers frequently and provide solutions quickly and efficiently. Our team is our real strength. We have computer science and engineering graduates who are willing to go any length to get things done in professional way. The combined experience of the designers, lead developers and web developers help projects completed and delivered on time.
OUR MOTO TO CONTINUALLY SERVE YOU BETTER!
Constant support
All our work comes with a 60 days bug free warranty and even if something found after warranty period we have made sure we fix it free of cost. Many think Web development is one time process and does not need any maintenance but we have seen sites which are hacked or outdated which suffers from broken links or plugins not supporting latest versions.
Whether there is some maintenance contract or not if clients come and ask for support on work we have done earlier we have supported them without hesitation. We know it matters every minute to keep the site up and running otherwise it reflects badly on their business.
If you are our existing customer and like to tell what you think we are doing right please feel free to share it with us. It will help us to improvise it.
Ready to Discuss?
Please take a moment to send some basic details of what you need done and we will get back to you swiftly