11 Types of websites to be built using WordPress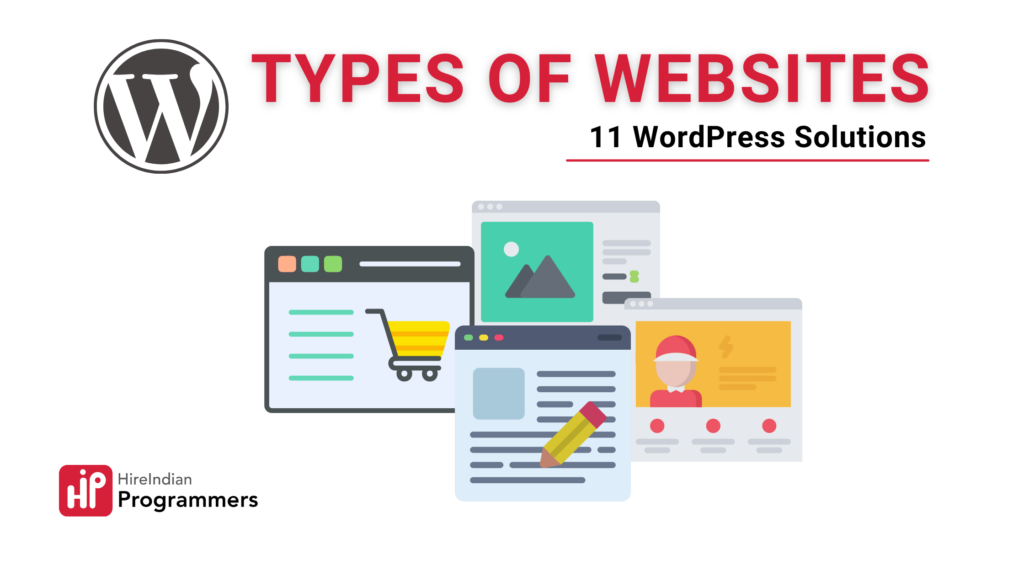 Most people equate WordPress with blogging, which is entirely correct. But, what if I tell you that you can use WordPress for far more than that? 
Now, if you desire to create a website, you can do it with WordPress. There are 11 types of websites which can be created this way.
About WordPress
Before we get into the kind of websites WordPress can build, let's define WordPress.
WordPress is a content management system that your website needs in order to run. It functions as a go-between for you, the content provider, and your audience. 
Matt Mullenweg and Mike Little founded WordPress on May 27, 2003, with the intention of changing the direction and tendencies of all websites. Since then, WordPress has steadily risen to the top of the CMS rankings.
You construct, tweak, and generate content in the backend or dashboard, and WordPress then displays your work to visitors in a nice and easy-to-use interface. In brief, WordPress makes your writing readable and enjoyable for your audience.
But WordPress is more than simply a website-building platform. WordPress is the clear market leader in the management system industry, powering 42.9 percent of all websites worldwide.
11 Types of websites to be built using WordPress
1. Blog website
Blogging is most likely the most widespread usage of WordPress and the most well-known use of this platform. Setting up a blog using WordPress is simple, and the customizing procedure is uncomplicated.
However, you do not need to blog in order to have your own online presence. You may use WordPress to create a website that you can customize to your liking and exhibit any type of information.
So, the top 5 blogging websites on WordPress in 2022 are:
Etsy Journal is the first on our list of well-known WordPress websites. It is the blog for the popular worldwide marketplace Etsy. This is the place to go for one-of-a-kind, handcrafted, and imaginative gifts for friends and family.
It aims to bring together a collection of local vendors to advertise and sell their wares. The Etsy Journal adds to this connection by providing a space for merchants and shoppers alike to learn more about making, share their opinions, and be inspired.
Microsoft News is a blog that obviously utilizes masonry grid layouts for its news pieces.
It is also built on the WordPress platform, making this layout simple to produce. I hope we don't have to explain why Microsoft, a globally famous brand, made this list.
The TED Blog, hosted by WordPress, publishes iconic TED Talks in written form for those who prefer to read them rather than view them as videos. 
As a non-partisan, non-profit organization dedicated to promoting ideas throughout the world, it is evident that the team behind the TED Blog understands what type of website foundation is required to thrive.
Another well-known WordPress website is TechCrunch, which covers businesses linked to technology, news, technical developments, rising tech trends, startups, and new products.
 In reality, it was purchased by AOL in 2010 for $25 million, exposing its true value to the internet world.
 Yelp reviews frequently appear on the first page of Google search results, making it an excellent source of good feedback for any online business. 
This allows them to ensure that those seeking for credible evaluations, as well as news, data, community information, and items, can easily discover them.
However, you may be surprised to learn that Yelp operates on the SEO-friendly WordPress platform.
2.  Business Website
When you have come up here with a business idea, you may establish a business website using WordPress. Promote your services, employ team members, launch a side project, tell people about your new book or start a newsletter.
Thus, top 5 business websites created on WordPress are:
Sony Music is the owner of the world's greatest and most successful music contracts, as well as the recording studio for the most recognised tracks with the world's largest giants of all genres.
The official website of Sony Music is designed on WordPress. This website is fashionable, modern, and very functional, with a top slider showcasing the leading artists of the current music charts, the top news of the music world and links to the featured artists' music. 
It is built with the Sony Music custom theme, W3 Total cache, Jetpack, and SEO with YOAST plugins.
BBC America is a prominent American pay television network based in New York City that is co-owned by BBC Studios and AMC Networks.
WordPress is fully responsible for its mobile and user-friendly website, which showcases the most popular TV shows and movies, providing complete episodes and more in one exciting and engaging platform.
MTV News is a WordPress website that is quite successful. 
The attractive backdrop of the MTV custom theme, W3 Total Cache and Jquery plugins, sliders and mosaic views of scattered celebrity photographs, and many other features will provide you with information on trendy new album releases, award ceremony outcomes and much more.
The New York Times is at the epicenter of everything that is going on in the globe. From breaking political news to the most cutting-edge books and art exhibitions, from scientific breakthroughs to sports news, the New York Times covers it all on its massively popular WordPress website.
The New York Times website simulates reading a genuine newspaper by utilizing the nytco custom theme designed by the NY Times development team, Akismet, WordPress SEO by Yoast, Contact Form 7, and WordPress Importer plugins on a plain white backdrop.

TWDC custom theme by Disney Interactive is responsible for this stunning site.
WordPress SEO by YOAST, WP-PageNavi, W3 Total Cache, User Role Editor, Regenerate Thumbnails, Disney Analytics, and other popular plugins are used on the site.
3.  eCommerce Website
eCommerce is another common reason why people need an online presence. With WordPress, you can create a website dedicated to selling virtually anything online. The platform includes everything you need to establish and build an online business by yourself or with your team.
If you already have a WordPress website, all you need to do is setup it up by installing WooCommerce, the most popular WordPress eCommerce plugin. If you don't already have a website, learn how to build an online store using WordPress from scratch. 
Thus, top 10 ecommerce websites to mention are:
IKEA provides the fundamental building components you require. All you have to do now is put it all together to make a masterpiece. Given that shopping at IKEA is such a memorable experience, there was a lot of pressure on IKEA to provide an equally compelling shopping experience for its online consumers.
IKEA website is designed in such a way that it gives an excellent in-store purchasing experience to you. Like, when you arrive at their home page, you are urged to shop and get moved to the next page in your buying adventure after selecting the online store you want to visit. 
Plus, if you aren't sure what sort of goods you want to buy yet, they give a few suggestions and highlight things that might help you create a more sustainable household. All these features of IKEA website are powered by WordPress. 
Root Science is an organic, high-performance skin care line inspired by the founder's native Iceland. The products are professionally blended using the world's most nutrient-rich botanicals.
Moreover, this successful eCommerce site using WordPress and WooCommerce features a sleek, modern design. The website also includes a blog full of content to assist their audience in improving their skincare regimens, and they employ customized pop ups to expand their email list.
 Porter & York allows you to have a world-class butcher shop right in your own house.
Their WordPress and WooCommerce-powered website includes high-quality photographs of their products, recipe ideas, and an Instagram feed featuring all of their satisfied chefs and consumers. In order to enhance lead generation on their website, an email opt in form is also put at the bottom of the main page.

With hundreds of outlets in over 70 countries, H&M have a significant online presence through its website empowered by WordPress. Their website has almost 7 million unique monthly visits, and their web sales over the previous 12 months are estimated to be between $5 billion and $10 billion.
Their eCommerce website is an excellent example of using your in-store branding. They not only used the same typeface and color palette across their website, but the look and feel of their internet layout also reminds you of the design of their physical locations.

Wiley (sometimes known as John Wiley & Sons, Inc.) is an American global publishing firm. Their primary areas of expertise are instructional materials and scholarly publications.
Their website which is powered by WordPress is an excellent example of how to incorporate diversity into website design. The lifestyle photographs featured on their homepage are representative of many demographics, emphasizing their business responsibility and demonstrating that there should be no barriers when it comes to education.
4.  Portfolio Website
A portfolio website is essential if you operate in an area where actual projects speak for your abilities. WordPress allows you to create stunning portfolios that you can then personalize.
You may be a student who wants exposure to get hired, in which case a portfolio could help. WordPress is an inexpensive approach to get your work online in a beautiful way with minimal effort.
Thus, top 5 portfolio websites to mention are:
Designer Zhenya Rynzhuk created this fascinating photography portfolio site for Rafal Bojar using WordPress as a semi-headless CMS and Vue.js on the front end.
 It has a homepage that shows teasers of chosen stories, a sleek grid that shows off all of Bojar's work, and a 'essence' page that explains the photographer's philosophy and methodology.
Sea Harvest, a Canberra-based seafood market, went to Australian web and branding firm ED when it required a fresh corporate identity and a clever digital presence to match. 
The WordPress website has an eye-catching newspaper-style layout with lots of interesting elements to discover. 
The fact that visitors may 'draw' on the site, even through an interactive word search, is developer Bryn Shanahan's favorite feature. The enterprise uses WordPress for many of its website developments since it is user-friendly and straightforward for clients. 
The option to make it headless by leveraging the WP Rest API allows us to integrate frameworks such as React, which is forming the foundation of our future platform development.

Maxim Shkret is a freelance digital artist based in Saint Petersburg, Russia. His outstanding WordPress website combines a portfolio with an online store, starting an innovative fundraising endeavor.
 A modest Gallery section of still sculpture pictures that ripple and wave via a watery filter is included. It is a minor effect, but it adds to the texture Shkret desires for each piece.

Noformat is a New York-based strategic design company. The homepage has an animated eyeball design that follows the visitor's pointer across the screen. There are superimposed text cycles through everything Noformat can make.
The rest of the site stands up to the initial page's impact, with sleek on-scroll transitions and subtle parallax effects that show off tech talents without interfering with usability.
"We chose WordPress for our site for speed to launch and flexibility. Over the years we have built our own libraries and module-based editing systems that allow us to create or edit a site faster than any other CMS solution." said Brewer. 

Wonderland, a Dutch experience design agency, has created ecommerce with Sass for Femme and Fierce. 
The bold, clash-tastic color palette of the WordPress website immediately conveys the online clothes retailer's brand statement.
5. Online Community
eCommerce is another common reason why people need an online presence. With WordPress, you can create a website dedicated to selling virtually anything online. 
 The platform includes everything you need to establish and build an online business by yourself or with your team.
Thus, top 5 online community websites to mention are:
TIME Magazine is one of the oldest American news websites and publications, covering the most recent news in technology, entertainment, economics, business, and other fields.
Every week, Time Magazine attracts over 20 million subscribers from across the world for its award-winning exclusive content.
"Almost all of our new Web content is now created on WordPress. We have developed a responsive theme that we can use to easily launch a new section of our website and quickly start creating content." – According to Time Magazine.

Sony Music is a global recorded music corporation with over 33 million monthly visitors and a network of local musicians and international superstars.
WordPress powers Sony Music's website.
"This rise in traffic reflects Sony Music's ongoing focus on building Web destinations that offer clean and easy navigation, compelling user experiences that connect fans and artists, and innovative direct-to-consumer features." – Sony Music.
Vogue began as a weekly newspaper in 1892 and has since developed into one of the world's most well-known online fashion and lifestyle magazines. It focuses on beauty, fashion, culture, lifestyle, and the runway.
WordPress powers this website. Vogue has almost 10 million visits every month.

Wired is a long-running American magazine that is available in both print and online editions. WordPress powers its internet presence. The journal focuses on how developing technology affects culture, politics, and the economy.
As a result, it draws people who are passionate about technology and its influence on civilizations. The website receives about 15 million visitors every month. 

TED is a non-profit organization dedicated to promoting ideas in over 100 languages, generally through precise yet impactful speeches on practically any topic ranging from science to global concerns.
WordPress powers the TED Blog, which covers notable TED speeches and conferences in written form.
6.Multilingual Website
Creating a multilingual site is an excellent method to reach out to a larger audience, boost your site's SEO, and provide a better experience for your current multilingual audience. 
As a result, there are many additional sites that have already made the transition to multilingualism.
Thus, 10 multilingual websites are:

Moodle is one of the most widely used open-source learning management systems (LMS). 
Millions of individuals use it, including huge corporations like Mazda and Vodafone, as well as educational institutions and organizations like the University of Cambridge and the United Nations. 
Moodle's website is available in six languages: English, German, Spanish, French, Italian and Portuguese.
Moodle builds the multilingual site with open-source WordPress software, the Pofo theme, and the WPBakery Page Builder plugin. Moodle uses the free Translate Press plugin to provide multilingual capabilities.
UNIS Hanoi is the United Nations International School's Hanoi branch. The school is notable for being one of only two United Nations schools in the world.
As an international school, it must cater to a bilingual community. To accommodate this, UNIS Hanoi's website is available in English, Vietnamese, Korean, and Japanese. Visitors can select their favorite language from a drop-down menu in the site's top-right corner.
The UNIS website is powered by Finalsite, a content management system (CMS) designed exclusively for schools that has its own multilingual features.

Microsoft (Researchers Database)
Microsoft has several websites, the majority of which provide multilingual capability via proprietary technologies. 
However, for this website example, we're focused on the Microsoft Researchers sub-site, which employs a more duplicable WordPress-based translation strategy.
The site displays all of Microsoft's researchers and includes a search box for finding specific individuals. Visitors can switch between English and French by using the sticky language changer in the bottom-right corner.
Microsoft utilized the open-source WordPress platform and the free Translate Press plugin for the researchers' sub-site.

Dream Glass Group specializes in "smart glass," which includes cool windows that can transition between transparency and seclusion at the flip of a button.
Dream Glass Group was formed in Madrid, Spain, although now has offices and clients worldwide. Dream Glass Group's global business necessitates a bilingual website, which is why it is available in English, Spanish, Russian, and Italian.
Dream Glass Group built their website utilizing open-source WordPress software, the famous SiteOrigin Page Builder for design, and Toolset for dynamic content. They use the free TranslatePress plugin to offer multilingual capabilities to all of those tools.

Quickchannel is a video streaming network with a worldwide emphasis situated in Stockholm, Sweden. They collaborate with corporations, education, governments, and others.
Quickchannel's website is available in three languages because they are a worldwide brand: English, Swedish, and Finnish. Visitors can select their chosen language from a menu in the top-right corner.
Quickchannel built their website on the open-source WordPress platform and the popular Divi theme/page builder. Quickchannel's multilingual feature is powered by the free Translate Press plugin, which is fully compatible with Divi.
7. Wiki/Knowledge Website
WordPress can also manage directories and wikis. If you want to create a website to post listings from any field, you may do so since WordPress has your back. 
You may customize your site with the appropriate plugins and integrations after selecting one of the many attractive directory themes.
Enable users to gather information as they post it in a simpler form and the built-in category system in WordPress makes it possible. 
Furthermore, your selected wiki plugin or theme may have additional customization possibilities. If it doesn't, you may always install a third-party solution like Real Categories Management.
8. Magazine and Digital Publishing Websites
Magazine-style web design is one of my favorite styles to draw inspiration from. Creating a well-designed site that looks beautiful, is easy to use, and has a lot of material without stuffing objects onto the screen is a challenging point.
We highly recommend Elegant Themes' Extra theme if you want to establish your own site/blog with a journalistic or magazine-style layout. It is a lovely WordPress theme with plenty of flexibility and customization options for creating an outstanding website.
Thus, top 5 Magazines and Digital Publishing Websites created by WordPress are:
Time Inc. publishes and owns Fortune, an international business magazine. The website has a long history of offering important business news and commentary.
Variety features entertainment news, film reviews, awards, film festivals, box office information, and information on entertainment industry conferences.
The Sun magazine is a prominent source of news, sports, entertainment, and celebrity gossip.
Quartz is a guide to the emerging global economy for business people who are energized by change. Business, economics, markets, money, technology, science, design, and fashion are among the themes covered.
Boing Boing started as an early weblog in 2000 and has since evolved into what it is today: an eclectic mix of link blogging, original feature articles, podcasts, original video, and curated picks from around the web, a place where they share and discover provocative finds with like-minded happy mutants.
9. Amazon-Affiliate Stores
Any website that generates money by connecting items from their website to the Amazon shop is considered an Amazon Affiliate Website. This can be a blog or website that mentions a product and links back to Amazon so that buyers can buy it.
It's actually very simple to join their affiliate programme; here's how to become an Amazon Affiliate. The premise is that you direct clients to Amazon, where you earn a fee if they purchase something from the Amazon shop.
This is normally between 5% and 10% off per purchase. Amazon tracks this using a unique code obtained from the URL link on your website.
Thus, top 5 Amazon-Affiliate Stores created by WordPress are:
ThisIsWhyImBroke.com
People enjoy purchasing humorous presents and interesting gadgets from websites. To come up with amazing blog post ideas, they are probably using an SEO tool like SEMrush. 
This blog highlights the fascinating, often hidden, items on the internet, and all you have to do to buy it from the Amazon shop is click on one of the Amazon Affiliate links. 
ThisIsWhyIAmBroke collaborates with more than just Amazon, although it is one of their primary money generators.
This website began in 2000 as a review website that assisted customers by assessing various items and offered the consumer the opportunity to purchase the product.
 Bloggers are increasingly using this method to construct Amazon affiliate websites. It's a terrific method to highlight things, and a positive review may be incredibly encouraging for someone to buy.
This Amazon Affiliate Website is comparable to ThisIsWhyImBroke.com in that the primary homepage is configured as an affiliate product page that is ideal for selling. GiftIdeaGeek's concept is to focus on geeky and pop culture referenced goods that appeal to it.
 This website employs clever satire to get visitors to "click through" on unique items, and if they do, GiftIdeaGeek earns an affiliate commission. They employ a blogroll area in addition to the homepage to obtain SEO and other affiliate possibilities.
The brand begins on the site by stating that they get affiliate commissions while providing top-tier ratings from independent reviewers. To be honest, this is fantastic. In addition to being open, they follow the content is king strategy. 
The website took the time to compose a 5,000-word blog article about it. This website appears to accomplish everything correctly in terms of being a prime example of an Amazon Affiliate Website and they presently employ more than 60 people.
Another Amazon affiliate website that lists goods and equipment for evaluation as they openly state on their homepage that they make money through affiliate commissions.
 This site apparently has over 1.8M visits, which is rather astounding given that it was only launched in 2013.
10.  SaaS Solution
It is indisputable that a well-executed website may be a deal breaker for a consumer wanting to invest in a B2B SaaS firm, even if they are unaware of it. Getting the right combination of eye-catching content and practicality is a difficult task, but it will make all the difference in attracting new clients.
Building the most efficient B2B SaaS website necessitates choice after decision, and it might be difficult to know where to begin.
Top 5 Saas Solution websites created by WordPress are:
Google Drive is rightly at the top of this list of software as a service website examples. It not only offers free cloud storage, but it is also conveniently accessible to any user and across many devices.
Using Google Drive's full-featured office suite, teams can easily collaborate on tasks, plans, and projects. Finally, its simple UI design makes it extremely user-friendly, even for novices.

GitHub is a public code repository with an excellent user interface on both desktop and mobile devices. Users may use their browsers to generate their own code, share it with others, and explore other code repositories.
The design of GitHub is straightforward and uncomplicated, with simple user flows. The UI is clean and simple to use, making it an excellent tool for developers of all skill levels.
GitHub enables teams to work on open-source apps while also allowing solo developers to construct and publish side projects online.
Notion is one of those websites that allows you to arrange your notes as you wish. All of the notes in this section are block-based, and you may transform them into other styles using drag-and-drop.
This makes it simple to rearrange notes and create personalized layouts. Furthermore, the UX/UI design is clean and straightforward, making it simple to use. 
Aside from the clean looks, we enjoy how Notion highlights crucial functionality using emojis.

Stripe is frequently used as a great example of a SaaS website design since its web design standard practices are both effective and distinctive for its consumers. Despite not being overburdened with text, the interface has the impression of being quite complete.
Apart from that, the website offers a strong information structure and fascinating animations for its icons and gradient pool.

Slack is one of our preferred communication tools for a reason. The website itself allows you to quickly pick whether to install their software on your PC or mobile device.
One of the nicest features of Slack is the "magic link" that the system produces, which allows users to connect to new devices without entering their passwords.
11. Multisite Network
A multisite network is a group of sites known for using the same WordPress installation core files. They may also exchange plugins and themes.
Individual sites in the network are virtual sites in the sense that they do not have their own directories on your server. However, they do have distinct directories for media uploads inside the shared installation and separate tables in the database.
Thus, top 5 multisite networks are:
BBC America combines original American scripted programming with British entertainment. The channel uses Multisite to handle each of these sites without having to start from scratch.
This is an excellent example of how to handle a number of connected but distinct sites under a single WordPress installation.
Reuters is another significant news company that covers a wide range of topics such as finance, accounting, law, science, healthcare, and media. Each writer has their own microsite where they may manage categories, tags, and related pieces within their own network of material.
If you manage a comparable network of authors with sophisticated content organization demands, Multisite allows you to offer them total freedom over their own parts without losing security for the rest of your site.
The Wall Street Journal makes extensive use of WordPress. They chose it because the content management system is simple to set up and use when there is an incredibly short deadline to meet.
They use WordPress Multisite to generate ad hoc, industry-specific news portals as needed. If you need to rapidly create a microsite that is tied to the rest of your business, Multisite can be an amazing solution. 
It's especially effective because you'll already be set up with all of the same themes and plugins.
Edublogs is a network of educational blogs. They provide WordPress hosting with an emphasis on educational-specific plugins and themes.
Edublogs, like WordPress.com, leverages Multisite to allow users to build new blogs inside their network. The main distinction is that they provide a tailored range of themes and plugins to a certain audience. 
If you wish to provide such services to a specific target market, Multisite allows you to create your own customized version of WordPress hosting.

The Berkman Center's Harvard Blog is a platform that allows those affiliated with the school to launch their own.edu blog on the site. 
Users can sign up for free to run their own column without a secret invitation, although signups are limited based on whether the user's email ends with harvard.edu, radcliffe.edu, or hbs.edu.
What makes WordPress so versatile?
WordPress powers about 30% of all websites and is widely regarded as the go-to platform for any blogger, startup, SMB, and even larger corporation. It is one of the most respected content management systems owing to its low cost and ease of use.
Although WordPress originated as a blogging platform, it did not take long for it to evolve into a full solution for any of your specialized website demands. It is versatile in nature and can be used to create any form of website, independent of your interests or business specialization. 
WordPress is most commonly used for blogging, eCommerce, classified ad listings, forums, appointment and service booking, photography and video, hosting directories, and many more purposes. 
Is WordPress a one-size-fits-all solution?
WordPress is not the same CMS platform that digital publishers use to get the same concessions. WordPress, in contrast to SaaS website publishers, is not a one-size-fits-all publishing platform.
To be specific, it can be said that WordPress is not just a publishing platform but also an open-source building block featuring a custom website.
The open source solution like free CMS or custom code is built like WordPress and can provide you with greatest flexibility.
It should be noted that WordPress has a variety of alternatives, ranging from simple templated sites that are more inflexible and less adaptable, to custom-built frontend sites with a range of flexibility supplied by popular e-commerce, online booking, or social networking plugins.
Hire Indian Programmers (HIP) can supply you with skilled developers to assist you in creating such websites for your business using WordPress. 
Related WordPress Blogs – 
Ready to Discuss?
Please take a moment to send some basic details of what you need done and we will get back to you swiftly