What is OpenCart Development?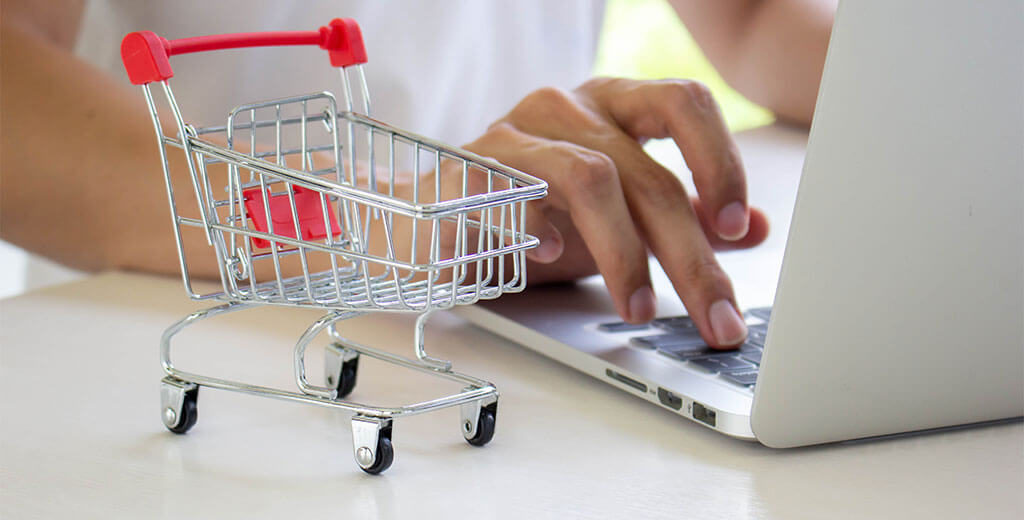 Are you planning to build an online store and monetize it?
It's quite easy to get started with the best OpenCart development companies that have a dedicated team of Opencart e-Commerce marketplace developers. It features a powerful dashboard that allows you to customize almost everything in the store.
What is Opencart Development?
OpenCart is a top-notch multi-store functionality open-source eCommerce platform that works as a one-stop solution to design and run online stores. 
It offers built-in SEO features that allow Google to rank your website in the top search engine page results.
Being Open Source, OpenCart ensures 100% transparency. Opencart Platform For Developing eCommerce apps comes with regular updates and free downloads that aim to enhance functionality.
Working with OpenCart is easy. It has a dedicated online community where you can seek assistance for your queries. OpenCart uses the Model View Controller Language Framework as its architectural pattern.
Opencart mobile app development platform gives you a detailed analysis of the sales report, products that are viewed and bought by the customers. In case you are looking for advanced reporting functionality, you can try reporting extensions.
Now it is time to discuss some basic points about the Opencart development such as Opencart definition, Opencart uses, Opencart benefits, and the advantages of Opencart development.
Why Should you Use Opencart to Create Your Online Store?
There are a couple of online eCommerce platforms which help you design online stores. What makes OpenCart different? Let's have a quick look at the striking features of OpenCart.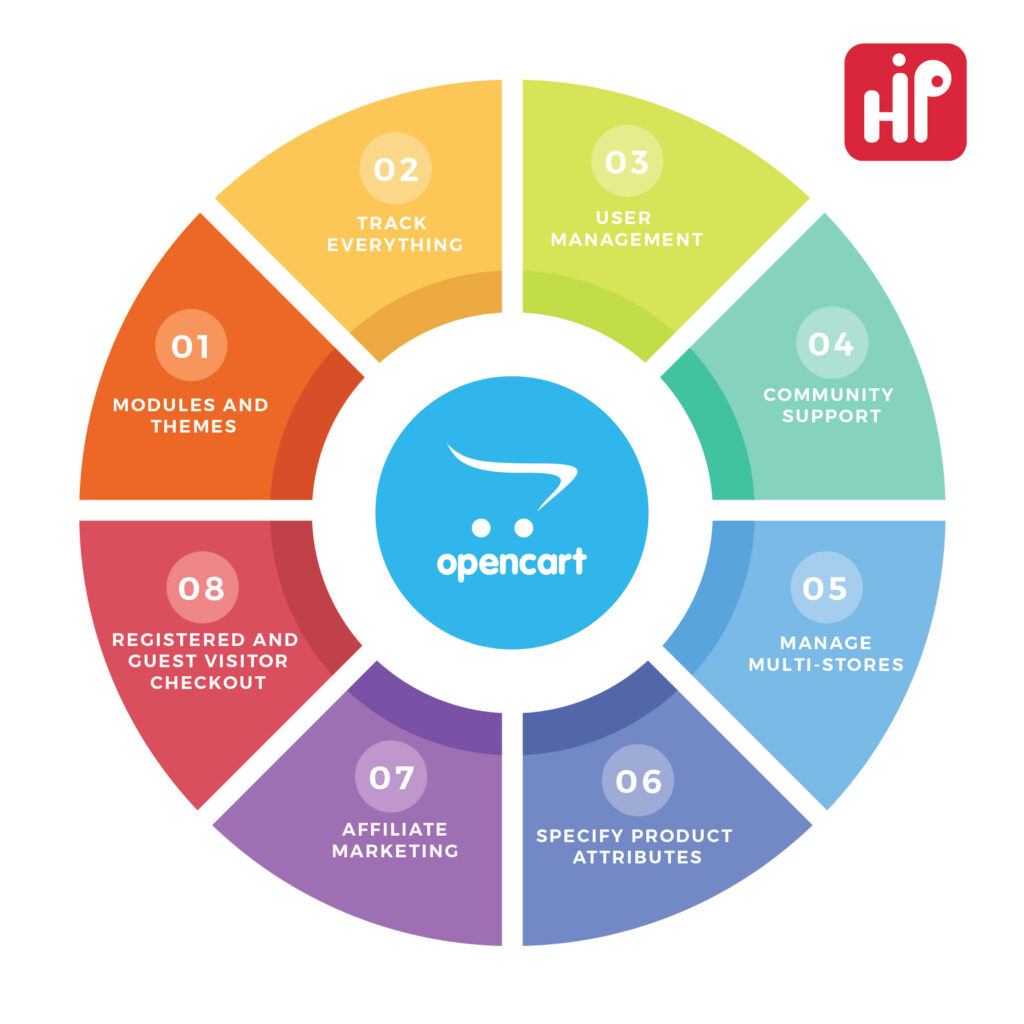 Modules and Themes: O

pencart website development services

offer a rich collection of 13000+ modules and themes. Be it any niche – fashion, furniture, ebooks, grocery, photography, OpenCart has elegant power-packed themes for every domain you can think of. All the themes support all the essential features, such as integration of payment methods and services, accounting, reporting, and social media marketing.
Track everything: The OpenCart administrator dashboard

and admin panel

gives you complete control over your online store. You can track all the important metrics such as total orders, sales analytics, visitors, customers, cart abandonment rate, and much more.
User Management: When running an online store, you need to have different people who will perform varied roles. Therefore, you need to specify specific permissions for different users. OpenCart enables you to do this by setting advanced user permissions and individual access for users and user groups.
Community Support: You can get immediate support from the OpenCart online community. It has 110,000 plus registered members who contribute to make the community a rich hub of information. There are about 550,000+ posts that you can browse to search for answers to your questions.
Manage multi-stores: The admin dashboard allows you to manage multiple stores from a centralized interface. You can select different themes for your store and customize the product's settings.
Specify Product Attributes: You'll have a wide range of products in your OpenCart store.  So you need to specify product attributes such as length, size, color, and much more. OpenCart allows you to specify all the product attributes effortlessly.
Affiliate Marketing: If you want to set up an affiliate system with OpenCart, you can do this easily. An affiliate system helps you reward the customers who promote your products and drive sales. You can set custom commission rates and integrate payment methods such as PayPal.
Registered and Guest Visitor Checkout: OpenCart allows both registered and guest users to complete the checkout process. So the focus is on optimizing the conversion.
Characteristics of OpenCart Development
OpenCart is a top choice for business owners who wish to set up online stores. Here are some of the top characteristics of OpenCart development that you should know before starting your store development.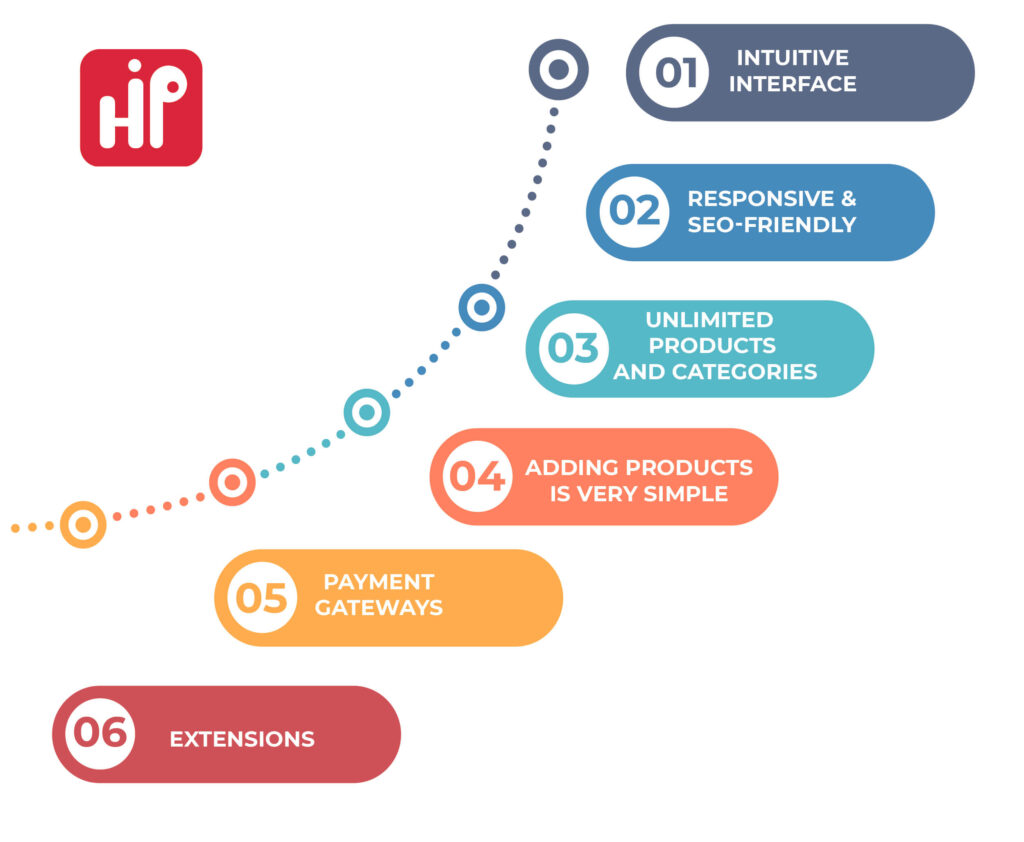 Intuitive interface: It has an intuitive easy-to-use interface that helps you manage all the aspects of the online store.
Responsive & SEO-friendly: OpenCart allows you to design responsive websites that load easily across different screen sizes. Also, it provides you with a bundle of SEO features that help your website be visible on the top of Google searches.
Unlimited products and categories: You can create endless categories and subcategories. Plus, you can add as many products as you want in those categories and subcategories.
Adding products is very simple: Click on the Add button and upload the product and specify the cost. Product review and ratings are other important parameters that affect the buyer's decision. You can embed a robust review and rating system with OpenCart.
Payment gateways: OpenCart offers seamless integration with popular payment gateways. Some of them are Amazon Payments, Skrill, Paypal, Authorise. Net, First Data, SagePay, Klarna, and FedEx.
Extensions: You may need different extensions to augment the functionality of your eCommerce store. OpenCart features an Extension Installer that allows you to add modules in a few clicks. Even if you are not a tech geek, you can easily do this.
How can Your Businesses Benefit from OpenCart Development? 
After knowing the Opencart definition and the main features of the Opencart framework we need to know about the benefits of Opencart for eCommerce development. 
When it comes to benefits, OpenCart is the best choice available, be it in terms of performance, scalability, support, along with many other benefits. Here are some multifarious benefits that businesses can avail through Opencart Development: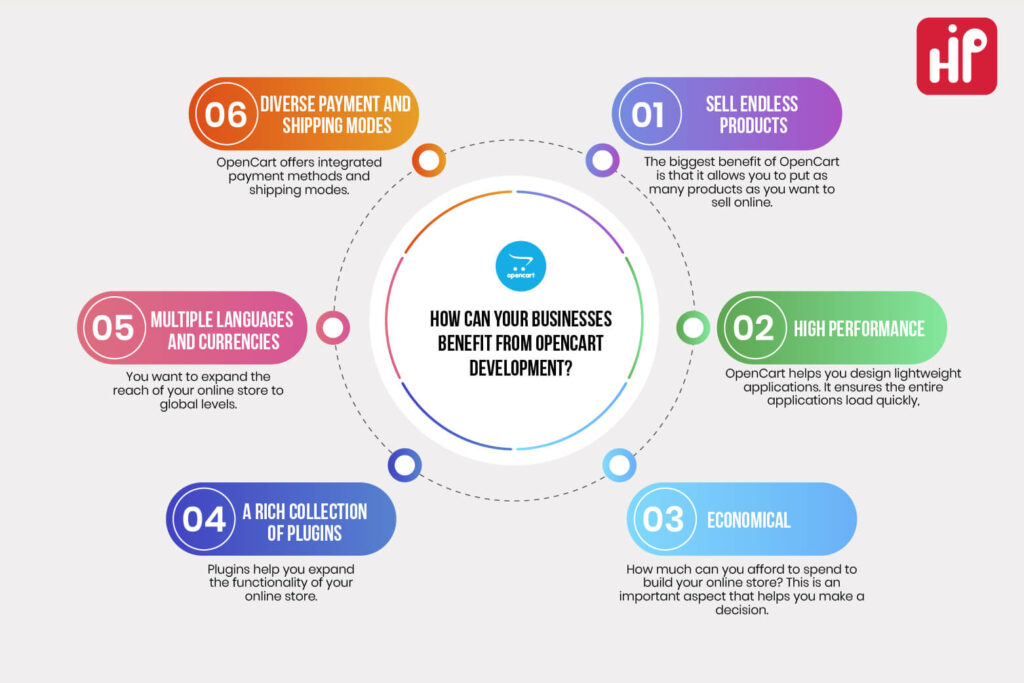 Sell endless products: The biggest benefit of OpenCart is that it allows you to put as many products as you want to sell online. Plus, you can position reviews of related products together.
High performance: OpenCart helps you design lightweight applications. It ensures the entire applications load quickly, providing the buyers with a seamless user experience. No one prefers to wait for your website if it takes endless time to load. OpenCart ensures your website loads in the blink of an eye.
Economical: How much can you afford to spend to build your online store? This is an important aspect that helps you make a decision. With OpenCart, you can start for free to build your online store. Interestingly, all the customization options are quite easy. So you don't need professional help to set up your store. You can do it on your own. There isn't much of a learning curve. Once you begin, you'll master it. In a nutshell, OpenCart is an economical retail platform.
A rich collection of plugins: Plugins help you expand the functionality of your online store. Every online store needs to have advanced features and functions to speed up its online presence and generate revenues. You can add different types of plugins that offer support to make your online store more robust.
Multiple languages and currencies: You want to expand the reach of your online store to global levels. For this, you need a website to translate to different languages. OpenCart offers support for multiple languages and currencies. This transforms the user experience and revenues to a grand scale. It becomes easy for global customers to browse your store and access all the information in their regional language.
Diverse payment and shipping modes: OpenCart offers integrated payment methods and shipping modes. Starting from debit and credit cards and e-wallets, OpenCart allows integrations with multiple payment gateways. It supports safe shipping methods and delivery of products as well. The website owners can calculate the shipping cost of the products depending on the size and weight of the products.
How can OpenCart developers help you? 
An OpenCart developer helps you create the store and integrate all the elements to make it highly robust and flexible. There are so many benefits of hiring an eCommerce development company with expertise in Opencart development. They have a team of Opencart developers with technical expertise.
Here are some of the important tasks that an OpenCart developer will do for you: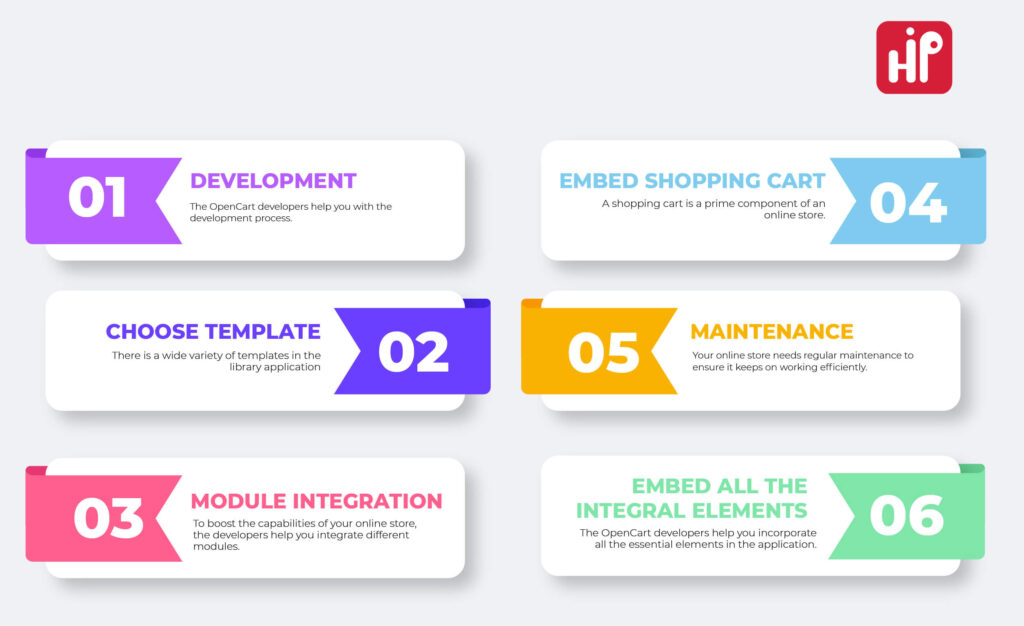 Development: The OpenCart developers help you with the development process. They take care of all the design and development elements. Which colors and fonts to choose from? Developers take care of all the elements that help you create highly converting stores.
Choose Template: There is a wide variety of templates in the library application. The developers will help you choose the template that matches your website niche. It is important to choose themes and templates that resonate with your brand.
Module Integration: To boost the capabilities of your online store, the developers help you integrate different modules. These modules ensure that the online store works effectively.
Embed Shopping Cart: A shopping cart is a prime component of an online store. The OpenCart developers help you add a shopping cart to the online store to facilitate the users to complete the orders.
Maintenance: Your online store needs regular maintenance to ensure it keeps on working efficiently. Once your website is live, you need regular support services. The OpenCart developers help you with all the timely updates and maintenance.
Embed all the integral elements: The OpenCart developers help you incorporate all the essential elements in the application. Customization, integration of payment methods, email marketing, and almost everything, the developers will do the needful for you.
Wrap Up
Now is the time to wrap up with the answer to the question What is Opencart Development?
If you are looking for a reliable eCommerce platform, OpenCart is a top pick. It is packed with the right features that help you build and scale your online business.
Being an open-source platform, it is available free of cost. You can start designing your store without spending any money. Once your store reaches some scalable milestones, you can invest money to buy better services to escalate the presence of your online store.
So, why waste time? Get your online OpenCart store monetized today!
Ready to Discuss?
Please take a moment to send some basic details of what you need done and we will get back to you swiftly