Top 10 Magento Product Designer Tools To Know About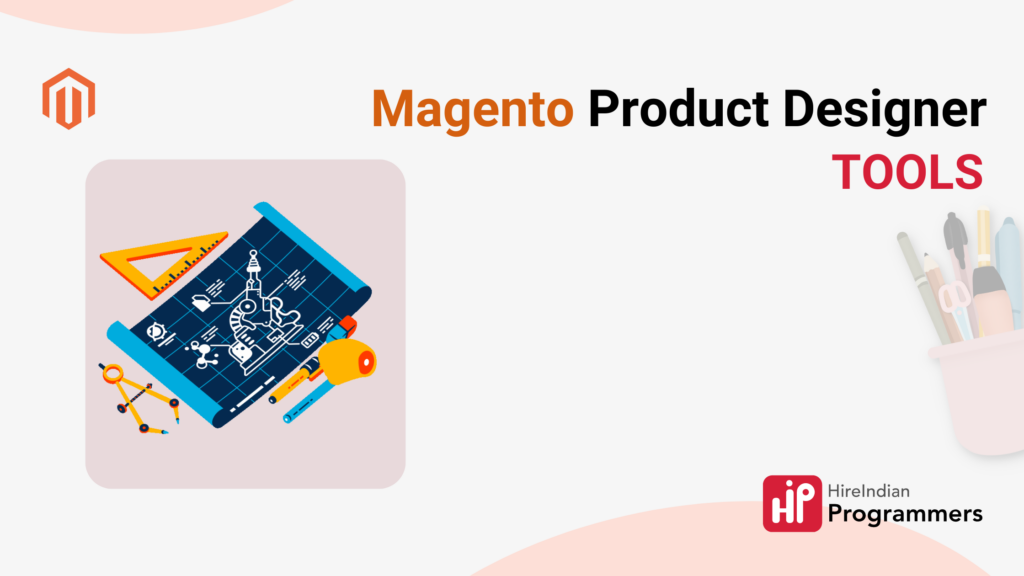 Magento is one of the most popular eCommerce platforms on the market today. This is because it offers a great deal of flexibility and customization options for businesses that want to create their own online stores.
Product design is one of the most important aspects of building a successful ecommerce website. Uncomplicated designs with an eye for detail are what make great products great themselves.
Magento product designer tools are one of the main reasons why Magento is such a popular choice among Magento development companies. These tools allow you to edit product descriptions and images on your website without having any knowledge of code or HTML/CSS.
Product designer tools help to create a seamless shopping experience by allowing you to create virtual product catalogs and share them with others. They help Magento developers get a handle on your inventory and make managing your catalog easier. You can also use these tools to display the products on your website visually.
In this blog, we'll look at some of the tools that the Magento platform offers and how they can be used to create an engaging experience for potential customers.
Things to consider before choosing product designer tools
1. Cost
The cost of using Magento product designer tools varies from one provider to another due to their different features. You should compare the pricing of various providers before choosing one for your eCommerce store.
2. Ease of use
This is a crucial factor when choosing any software or tool. You want something that is easy to use and doesn't require much learning curve. If it takes too long to get up to speed with a new program, or if the learning curve is too steep, then it might not be worth it in the long run.
3. Compatibility with different browsers
If you have many customers using Chrome, then you need a Magento product designer tool that is compatible with Chrome. This means that your tool should be able to export your designs into HTML5 code so they can view them on any browser without downloading anything extra.
4. Interface and UX
The interface of the website should be user-friendly and easy to understand. You don't want your customers to get confused while using your product page. So, you must choose the product designer tool to help you design an intuitive interface, making things easier for your customers.
5. Multi-platform compatibility
Your product designer tool should be compatible with multiple eCommerce platforms for the best customer experience. This way, they can easily use all the features to create unique designs without having to send them separately. By having software that performs well on multiple platforms, you're giving your customers the ability to design without any restrictions.
Top Magento product designer tools
1. Advance product designer
The advanced product designer extension from AppJetty is perfect for users who want to personalize their gifts with lovely and printable designs. With this extension, they can carve their abstract thoughts into beautiful designs on different products, such as T-shirts, bags, caps, pillowcases, gifts, etc., before placing an order.
The software is easy to use. Once the user clicks on "Start Designing," they'll be taken to a product designing page where your designers can build personalized products using text, quotes, templates, clipart, or custom images. They can upload images from their computer or mobile device, so it's easy to get started.

Pricing
Starts at $375
2. Brush your ideas
The Brush Your Ideas (BYI) web-to-print Magento extension is precisely what you need if developers want the opportunity to create unique designs on products. Not only that, but it also allows you to make money from your customers' creations. 
The end users can use this tool to customize products such as business cards, t-shirts, mugs, and many more. The best part is that the Brush Your Ideas designer tool is compatible with platforms and e-commerce stores like Magento, Shopify, WordPress, Php, and others.
With over 10,000 items available in its clipart library, BYI is a great resource for anyone looking for inspiration. The software also supports printing formats, such as JPG, PNG, SVG, and PDF. Additionally, thanks to the "Social Media Support" feature, customers can share their artwork on social media platforms.

Pricing
Starts at $599
3. Magento product designer by Design'N'Buy
Design'N'Buy's Magento web-to-print solution is the most complete you will find. It is available on Magento Cloud, Magento Community, and Magento Commerce. This plugin combines the power of personalization with Magento to give you web2print software.
Designers who use Magento can easily sell custom print products, like photo albums and banners, through the ordering process on Magento. This cuts down on cart abandonment rates significantly.

Pricing
Starts at $120
4. Product designer Canvas
Magebay's Product Designer Canvas (PDC) is a powerful online design toolkit that gives users total control over the look of their products. With PDC, users can create custom t-shirts, business cards, flyers, brochures, and more.
Product Designer Canvas is a great way for designers to create unique designs for different products on your eCommerce store. With thousands of artworks to choose from, designers can edit and modify existing designs to get a one-of-a-kind look for their products.

Pricing
Starts at $399
5. GoMage product designer
GoMage Product Designer Tool is a great way for Magento store owners to create their designs and logos on any products you offer, such as t-shirts, caps, mugs, and more. You can also consult the online logo creator for additional help.
GoMage is a powerful tool for online store admins and customers alike. Designers can easily create custom designs for their products using pre-installed templates or custom images. They can also preview their design on the product before they purchase it. As a store manager, you can control the backend's font size, color, and text effect.

Pricing
Starts at $859
6. Product designer pro
This product designer tool is a must-have for anyone running an online business that sells custom products. It doesn't matter which platform you're using – whether it's Magento, Shopify, Woocommerce, Opencart, or something else. This tool will work and supports many eCommerce platforms. It supports various printing formats like Digital, embroidery, Screen, Laser, and Vinyl. So whatever your specific needs are, this tool has got you covered.
This software stands out amongst others in the Magento product design tools market. Its responsive and user-friendly interface is simple and easy to use, so designers can easily select from thousands of free templates in the library. You won't have to worry if your customers find it difficult to use because it's designed with them in mind.

Pricing
Starts at $299
7. CMSmart product designer
CMSmart's product designer tool is the perfect solution for store owners who want their customers to have a great experience while customizing products online. By using this tool, store owners can provide their designers with an easy way to design their products without worrying about the product's quality or customization.
This extension is perfect for customers who want to design their products and see how they will look before they purchase them. CMSmart is compatible with Magento 1 and Magento 2, as well as other online stores, making it easy for designers to find the products they want to design.

Pricing
Starts at $199
8. Zakeke interactive product designer
If you're looking for a cloud extension that will lend your Magento customers the power to personalize products, Zakeke is an excellent pick. With this Magento product designer tool, your patrons can customize everything from apparel to phone cases using text, clipart, and images. Plus, it comes with a 3D preview so they can get a realistic idea of how the final product will look.
Zakeke's cloud services make it easy to host, code, and update your products. And their product designer tool comes with free templates that designers can use for their products. 

Pricing
Starts at $13.30/month
9. InkXE
InkXE is a versatile e-commerce product designer extension that you can use on your Magento store. Customers can use InkXE to create responsive designs on any device for different products like t-shirts, caps, promotional gifts, and more.
This Magento product designer software is a great tool for anyone who wants to improve their e-commerce shopping experience. It has a great backend for admin and a friendly interface that makes it easy to use. Additionally, it is compatible with any e-commerce shopping cart system, whether Magento, WooCommerce, or Shopify.

Pricing
Starts at $2499
10. Customily
Customily software is the perfect way to let your designers design unique products. By allowing them to upload custom images and designs, you can create a one-of-a-kind product that is perfect for them. And, by personalizing the uploaded image with custom clipart and text, you can make it their own. This will improve the overall value of your products, increasing customer engagement in your e-commerce business.
The customer's product designer tool comes with an online preview feature that lets you see how their design will look before purchasing it. The software also has high-resolution printing and engraving capabilities, so you can be sure their design will look exactly how they want it.

Pricing
Starts at $49/month
Get the right Magento development team
Having a designer tool at your disposal is one of the most attractive features of any eCommerce store platform. It allows you to sell more products and reach a broader customer base quicker and more efficiently. 
HIP offers a wide range of services for all your web and mobile development needs. We offer Magento development services based on your requirements. Our Magento developers are experts in creating custom extensions for Magento stores and integrating them with third-party tools such as Google Analytics, PayPal, Amazon Web Services, etc.
You can also hire a dedicated Magento development team from HIP on a fixed cost or hourly basis. All the developers are in-house, ensuring that enterprises get the best quality work. Know more about the advantages of hiring Mangento developers for top-quality work.
Related Magento Blogs – 
Ready to Discuss?
Please take a moment to send some basic details of what you need done and we will get back to you swiftly