10 Excellent Platforms For Building Mobile Apps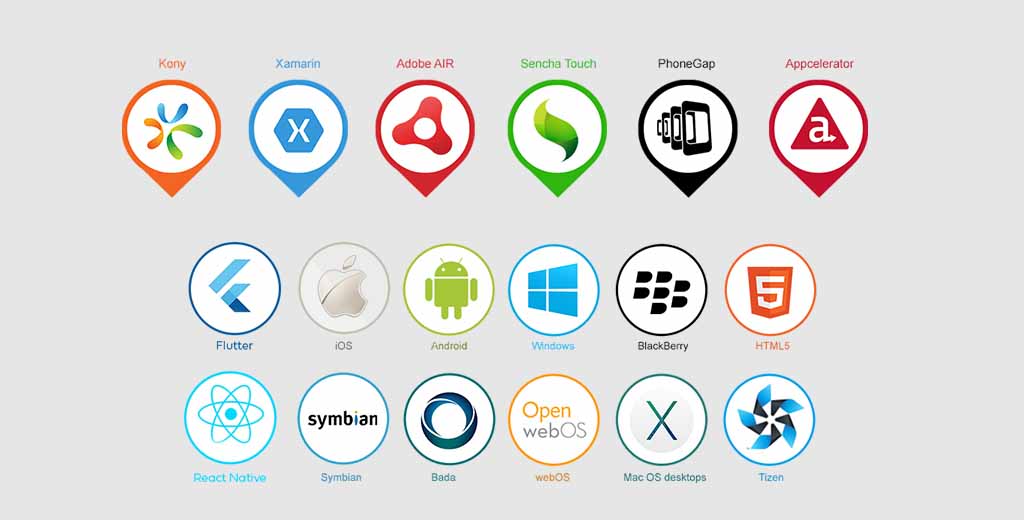 Ever thought of having a mobile app for your business but felt scared of all the coding, runtime
environment, and various processes involved in its making? You can either hire one of the best mobile
app development companies to get the job done or use platforms designed to help you build mobile
apps with ease. Here's a list of 10 excellent platforms for building mobile apps that will help you create
an application easily:
1. TheAppBuilder
First on the list is TheAppBuilder which is an Italian application that helps its users to develop native applications to be made available in different stores. The user can choose from the perceptive dashboard to add pictures, logos, and effects to make their application look more interactive and responsive in terms of presentation. The builder offers various assets and modules from which the user can choose from, for example, loyalty tools, ebooks, maps, and templates.
The user also gets to protect their apps with username and passwords and distribute them later on iOS, Android, Windows, and various other platforms.
2. Appery.io
Second is Appery.io, which is very popular amongst the platforms for building mobile apps. Appery is purely cloud-based which means all its components and services are available over the internet only and there's no need of downloading any big files or software for it on your personal computer or the user device. It's based on the internet to provide ease and flexibility for the development of the application. It offers various features such as a visual editor which comes with drag and drop which is very helpful for the user on the design part. The users can connect their databases with the application through Rest API and the code for every component you drop in is generated by Appery itself.
The Appery offers various plugins and the user can opt for the customized plugins too depending on the structure of the application.
3. Mobile Roadie
Mobile roadie is another platform that helps you create your application and manage it easily as compared to other platforms. Though it's a bit costly as its users are one of the most renowned in the industry and thus their base fare is way up. But there is value for money when it comes to Mobile Roadie as it has some not so ordinary features like it supports all media types and even the music player can be integrated into the app very smoothly. Also, it supports the automatic importing of RSS, Twitter, and Google Keywords.
The Mobile Roadie is quite interactive too as it comes with a fan and chat wall feature and consists of many more features such as Geo-targeting of content and sending push notifications through the app which is truly value for money.
4. Appy Pie
Appy Pie is a pie blended with features of Appery.io, Mobile Roadie, and other platforms with added cherries of its own features. It is a cloud-based service that means no need for downloading components or any sort of file and it comes with features such as drag and drop, push notifications, real-time revisions, monetized ads, and live tracking. This is not it; the Appy Pie has a prime priority for its customers as it offers live chat support and tutorials to enhance and ease the process of creating an application. It is also capable of integrating various social media platforms and many other add on features which makes it one of the most preferred platforms over others and a noble platform for those who have never been into coding and are wanting to develop an app for themselves.
5. Good Barber
Good Barber has its own position in the platform market as it offers some of the very valuable services and features that give users reasons to choose over other platforms. It is known for its pleasing and seamless design interface and the ease of utility for its users. Good Barber has a wide range of themes, designed templates, stylish icons, and fonts to offer. It has some other relevant features too such as push notifications, geofencing, chat, and users can be contributors too by submitting articles, videos, and photos. Even if the user is from a non-coding background, he/she can easily develop their application comfortably and efficiently with the Good Barber.
6. App Machine
Just like other platforms, the App Machine has its own recognition. It's totally user and non-coder friendly and offers various features such as drag and drop, push notifications, location-based services, social media integration, and much more. The App machine is also known for its ability to let the user design the application most stylishly and desirably possible. There are various themes and templates and available on App Machine which makes it different from others.
It takes care of the distribution of applications among Android and iOS.
7. App Makr
App Makr is one of the fastest and easiest DIY platforms for app lovers and non-coders. The App Makr claims that a user can build an app in just 20 minutes, which is surprising but true. It is known to have earned its recognition due to the seamless experience of creating an application it offers. It's not just easy to use but it also offers various features such as push notifications, photo galleries, video streaming, and google map integration too.
It is undoubtedly one of the most user-friendly platforms which help you create your desired application with added features in quick steps.
8. ShoutEm
Out of the 10 excellent platforms for building mobile apps, ShoutEm is one of the most powerful tools when it comes to app building as it offers a wide range of features and options for the users. It is known for its fully managed content system, monetization options with strong and seamless social media integration. ShoutEm lets you update your app content in real-time even after getting it published under iTunes or Play Store.
It gives various monetization options such as in-app subscriptions, coupons, deals, and many more that lets you create a revenue stream.
9. Bizness App
Bizness App is another shark in the sea which is very user friendly when it comes to building and designing of applications, offering a great range of features for its users. It comes with features such as third-party integration services, app analytics, e-commerce, food ordering, etc. which gives it an edge over others.
Users can customize almost everything on it be it designs or components. Another great thing about Bizness is it doesn't let its users go through a hefty process of distribution among Android or iOS and takes good care of the process by itself.
10. Game Salad
Game Salad is one of the most eminent software in the market that lets the user develop games at an ease for Android, iOS, and various other platforms. It's almost impossible to imagine developing a game without using the coding but with the Game Salad, it is no big deal. The most prominent feature is its scene and actor editor where a user can actually create attributes such as characters, sound, images, etc. on their own with just a few clicks.
These are the 10 excellent platforms for building mobile apps that can come in handy to even the non-coders or app creating community. So, an alternative option to hire mobile app development companies is using these platforms to build an application.
Keep Developing!
Ready to Discuss?
Please take a moment to send some basic details of what you need done and we will get back to you swiftly