HireJar The Consultation Hub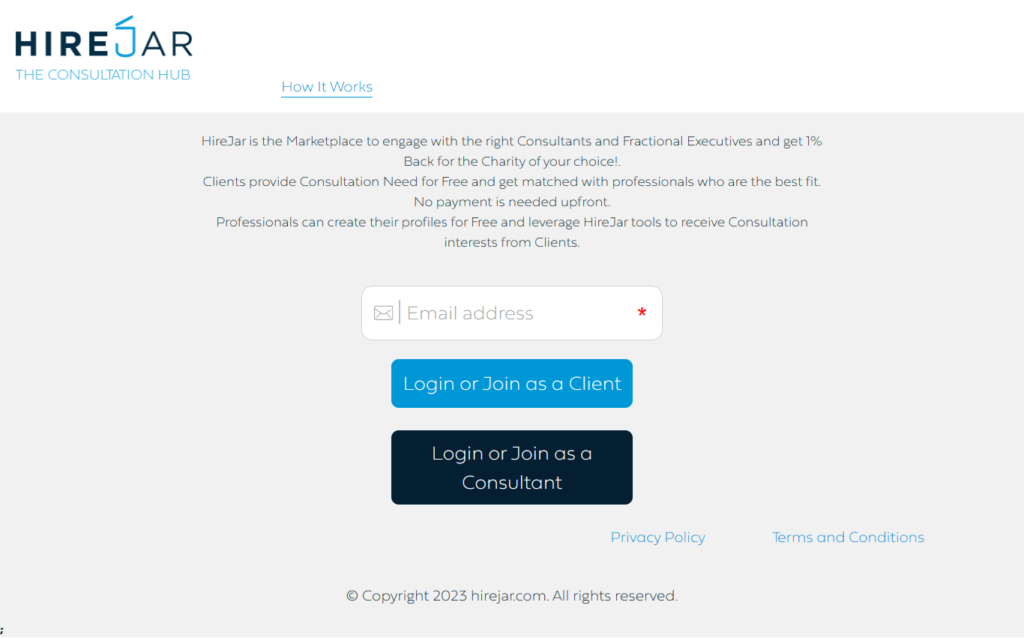 HireJar is the Marketplace to engage Consultants and Fractional Executives and get 1% back for the Charity of your choice! Provide your Consultation Need for Free and we will match you with Professionals who are the best fit. You can then decide on the right Professional and initiate Consultations. Your engagement with Consultant can be as brief as One Hour.
If you continue your Consulting Engagement after the initial conversation, you pay the Professional using HireJar invoicing system. In doing so, you will receive 1% of your payment back, which HireJar can donate to your favorite Charity on your behalf! Enter your email to start (Join us even if you don't have a need currently, so you can use us in the future):
Why HireJar
Using HireJar is seamless and requires no upfront payments!
The other benefits of using HireJar are as follows:
CONFIDENTIAL: Your conversation with the Consultant will be private (phone, web conference, in person) rather than tracked through an online chat (as in other services).
COMPREHENSIVE: You can continue your engagement with the professional after initial conversation. You can send over documents to review and have multiple conversations over time.
CHOICES: Rather than be satisfied with a professional assigned to you, HireJar enables you to choose the professional right for you based on expertise.
Ready to Discuss?
Please take a moment to send some basic details of what you need done and we will get back to you swiftly